What is HCBR Texas Up To Now?



Winters Mill Parkway
Commercial Project
What's Your Next Awesome Project? – Yeah, We Can Help With That!!!
HCBR Texas is a "yes, we have done that company"
Not a "wannabe" company
SEQUENCE - PROCEDURE - TECHNOLOGY
With a winning recipe, our projects are baked to perfection
Here at HCBR, We Specialize in HARD, DIFFICULT & TECHNICAL
We Are a Full Service Company. Our Umbrella Includes
All Aspects of the Construction Process.
Meet HCBR Texas, Inc
General Manager – Calvin Paulsen
Calvin Paulsen is the General Manager of HCBR Texas, Inc. – DBA Hill Country Building & Renovation. He has been in the construction industry for 40+ years and married for 33 years. He has 4 children and 7 grandchildren. Calvin takes pride in providing for his family each and every day by doing what he loves; like building steel buildings, additions and stand alone shops and warehouses including commercial projects; using honest hard work, integrity, and skill accumulated over long years of practical application.
What Do We Do?
Here Are the Core Projects We Specialize In
General Construction * Commercial Projects *  RV Garages
Sweat Equity Homes * Steel & Wood Frame Buildings
Shops & Storage Buildings * Additions * Detached Garages
Casitas * Barndominum * Outbuildings of All Varity
** And More **
And Here Is Where We Do
The Core of Our Business
Spring Branch * Bulverde *  New Braunfels
Canyon Lake * Wimberley * Fisher * Blanco
** And the Surrounding Area **
So, What is HCBR Texas Up To Right Now?
Here Are Our Current Active Projects.
Leinneweber Services
New Commercial Complex
Cypress Springs
Casita Project


(Finished)
Blanco
Steel Shop Project


(Finished)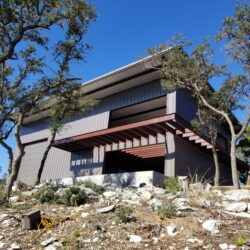 Ghost Dancer
Barndominium

Rockwall Park
Detached Garage


(Finished)
Canyon Lake
Major Reconstruction
& Remodel Project


(Finished)
Boerne Texas
Detached Garage
& Patio Expansion
Kendalia Texas
Phase-1
1907 Partial House Demolition


(New Project)
Indigo Run
Sweat Equity Home
(Ready for Concrete)
Wildlife Rescue & Rehabilitation, Inc.
Vet Suite Project


(Starting Soon)
More Projects
Starting Soon
What's Your Next Awesome Project? Yeah, We Can Help With That!
Give Us A Call/Text Today at
512-667-0728
Or Contact Us Here